Lamb Ribs with Old Bay
I saw a message on the Kamado forum from a fellow who used Old Bay seasoning on some lamb. We've used Old Bay on seafood, most notably as a crab boil, but never on meat, so this message was intriguing.
Click on the small photos for larger images.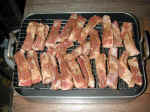 I got some lamb "riblets" from the supermarket, and sprinkled some Old Bay on them, then refrigerated them for a couple of hours.
Old Bay is readily available in supermarkets, and is comprised of celery salt, mustard, red pepper, black pepper, bay leaves, cloves, allspice, ginger, mace, cardamom, cinnamon, and paprika. So I figured "what could be bad?"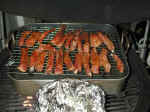 I put them over a drip pan on the Kamado, set to 350 - 400 degrees for about 90 minutes, adding a little apple wood for smoke.
Because Halloween is next week we have some pumpkins around the house. I took a small sugar pumpkin, cut it in half, sprinkled it with cinnamon and nutmeg, then drizzled some maple syrup into the center. I wrapped the pumpkin in foil and set it along side the ribs to roast. When everything was done, I scooped out the softened pumpkin meat, mashed it and added a little extra cinnamon.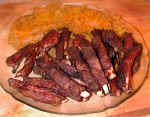 The dinner was delicious! The Old Bay did not overpower the lamb at all. Lamb riblets are pretty fatty, but most of the fat rendered out, yielding crisp, almost bacon-like crust. The pumpkin was a big hit with our boys. A lovely meal all the way around.
If you get a chance, stop by and sign our Guestbook.
---
Copyright © 2000 by Zenreich Systems. All rights reserved.
Revised: December 13, 2017