Music to go!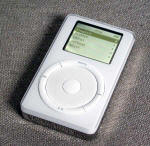 I like to listen to music while riding my motorcycle. I have a AutoCom Pro M1 intercom system that has a connection for audio input, so it can use just about anything that provides a headphone connection.
I sometimes use a small AM/FM radio on the bike, but the signal fades in too many places. So I considered using an MP3 player to provide high quality music through the intercom's headset.
My first attempt was using a Compaq iPaq PDA mounted to the handlebars. However, the battery life is limited (only 2 or 3 hours) and it really wasn't suitable for the task.
I also wanted something that I could use on an airplane and in hotel rooms during my trips to Europe (some trips are for weeks at a time, and having my own music and English speaking programming helps pass the time.)
During the holiday season 2002, I got an Apple iPod portable music player.
I got the 10gb Windows version, which should be able to store about 2,000 songs (more or less, depending on the bitrate settings). It can also be used as a hard disk (10gb) when connected to a computer via a Firewire cable.
Click on the small photos for larger images.
The iPod comes with ear bud headphones, a remote control, multi-voltage charger, Firewire cable, leather case, and lightweight pouch, al shown above.
The iPod has a great form factor, smaller than any of the other hard disk based MP3 players around. It uses very simple controls, nicely made, sharp looking piece... white with chrome trim.
The user interface is well thought out. There is an LCD screen, and beneath that a scroll wheel with a center button and four perimeter buttons. On the 10gb and 20gb models, the scroll wheel is touch sensitive (not mechanical). I like this, but it does have one drawback... it can't be used with gloves on. This isn't a problem because on the motorcycle, I will use the small remote control unit, and keep the iPod itself in my jacket pocket or tankbag.
Quest for case
The case that came with my unit is pretty much useless because you have to slip the iPod out of the case to see the display or use the controls.
I found a neoprene case for it, but wasn't at all happy with the belt clip on the case.
So I got a Marware CEO Classic case shown below. It's a well made leather case with a removable cover and a versatile clip system (I think the steel clip is the best I've tried to date)
Portable speakers
Because I will be using the iPod in hotel rooms quite a bit, I thought that bringing portable speakers would be better than always relying on earphones, especially if I might fall asleep listening to music or an audio book. Portable speakers would also be useful when hooked up to my notebook computer while laying DVD movies.
I decided on a Sony SRS-T77 amplified speaker system.
This setup seems great for travel. It's lightweight, compact, and uses batteries or an included multi-voltage power supply. Although the volume isn't very loud, it's more than adequate, and the sound is respectable considering the size of the setup.
In September 2004, I gave my second generation 10 gb iPod to Scott for his semester in Europe. So I acquired a new fourth generation iPod to replace it.
The photo below shows my current portable audio rig:
20 gb 4G iPod
Etymotic er-4p ear canal phones
Xin SuperMicro headphone amp
Xin 75 ohm converter (effectively makes er-4p into er-4s phones)
SIK Din line out connector.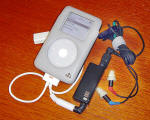 If you have comments, please visit the Guestbook.
---
Copyright © 2000 by Zenreich Systems. All rights reserved.
Revised: December 13, 2017