Music in your pocket!
A headphone amplifier goes a long way towards bringing out the best sound from a good set of headphones. Recent miniature marvels allow taking high quality audio with you.
I'm using two amps made by Xin at www.fixup.net .
Now that the SuperMicro 3 has shipped, the SuperMacro 3 sits on my desk... and the new SuperMicro 3 goes with me.
This tiny jewel is powered by a single AAA battery.
This page is a placeholder for information and photos about this new amp. I'll add text as I make observations.
Click on the small photos for larger images.
For size comparison, the photos above show the SuperMicro 3 with an iPod nano and with an iPod. Etymotic ER-4p canalphones and a SiK Ram Din connector that provides a line-out signal to the amp.
Considering how tiny the iPod nano is, the SuperMicro 3 is a perfect traveling companion. The amp measures 2" x 1" x .75" and weighs about an ounce.
The photos also show one of the crystal acrylic cases available for the amp. There are many colors, including clear available when ordering the amp.
The amp is simple to use. There is a power small toggle switch on the side of the amp, and a thumbwheel to control volume. The poly-band that keeps the lid on the box is a simple implementation that allows the lid to lift for battery changes without removing the band. Xin may be looking into other case options (perhaps rounding the edges), but for now the main focus is the electronics in this tiny masterpiece.
First impressions are very very good... stay tuned for more notes.
---
Previous Xin SuperMicro Amp
The photo below shows a discontinued model of the SuperMicro, which I used in a previous incarnation of my portable audio rig:
20 gb 4G iPod
Etymotic er-4p ear canal phones
Xin SuperMicro headphone amp
Xin 75 ohm converter (effectively makes er-4p into er-4s phones)
SIK Din line out connector.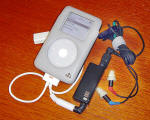 Unfortunately, the tiny SuperMicro stopped working one day and Xin was having trouble fixing it. This was because the SuperMicro was not currently in production, and he was working on the SuperMacro and new SuperMini models. So he agreed to apply the purchase cost of the SuperMicro to a SuperMacro... a good deal.
If you have comments, please visit the Guestbook.
---
Copyright © 2000 by Zenreich Systems. All rights reserved.
Revised: December 13, 2017