Grilled Chicken Wings
The aim of this meal is to produce chicken wings with crispy skin, yet still be very juicy inside. Click on the photos for larger images.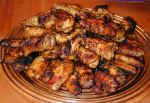 The cooking technique is based on a recipe in Cooks Illustrated, but we used some of of JJ's rub instead of the simple black pepper that's called for in the recipe.
We bought chicken wings in packages. A wing has three sections, the "drummette", the middle section, and the wing tip. We cut the three sections apart and disgarded the wing tips.
Chicken wings really benefit from brining... it's amazing how much water they absorb and how many napkins you'll need when you eat them!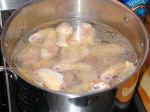 We brined the wings for about 40 minutes in about a gallon of cold water with a cup of kosher salt (or 1/2 cup table salt) and a cup of sugar.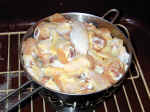 The next step was to rinse the wings and let them dry (we used a collander, then some paper toweling).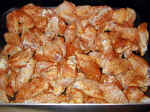 Next I sprinkled the chicken with some of JJ's rub. I use a shaker can to distribute the spices, it makes it easy to deal with. We tend to make batches of this rub and keep it around, so it's readily available in my kitchen. You could just as easily do salt and pepper and some garlic, and wind up with nice results.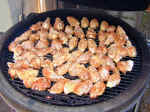 I fired up the Kamado, and brought the temperature to about 375 degrees. I used gas to preheat the cooker, then switched over to charcoal. I also tossed some wood chips that come from old wine barrels onto the fire (this gives a wonderful aroma and a subtle taste). Now it's time to put the chicken onto the grill... a pair of long tongs is very handy here!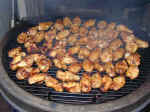 After about 6-8 minutes, it's time to turn the pieces over.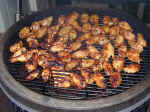 Let another few minutes pass and turn again if necessary, taking off pieces that are done to your liking. Sometimes the drummettes take a few minutes longer than the middle section of the wings.
This meal is a particular favorite with our sons. We recommend it for kids of all ages!
---
Copyright © 1999-2000 by Zenreich Systems. All rights reserved.
Revised: December 13, 2017