Filet Mignon
A lovely and unexpected gift arrived at our front door one day.
It was called a Fiesta pack from a now company called OutdoorLiving.com.
(Note: Six months after this page was originally written, the company is no longer selling food products... another Dot Com casualty... but we had a nice meal at the time, so read on...)
The pack included most of the components for a dinner for eight, and it has a Mexican theme.
The pack was designed to take the stress out of cooking for a group.
There was one large carton that contains two smaller boxes. The first box contains some salsa, black beans, tortilla chips, bread mix, a sauce, and even a salsa music CD.
Click on the photos for larger images.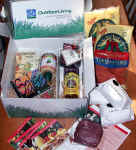 It also contains collateral material such as a shopping list for the supermarket (vegetables etc, that you need to provide), recipe sheets, and even a cooking timetable (what to prepare the night before, that morning, 3 hours ahead, etc.)
The second box contained the highlight of the pack, eight 8 ounce prime filet mignons and a cooling pack. Two filets were in each vacuum pack, and wrapped in butcher paper.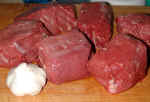 Because it arrived unexpectedly, and I had already started some ribs on my Kamado, and I was leaving town the next day, we decided to cook 6 of the steaks after the ribs were done.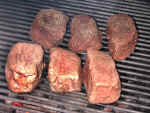 Rather than follow the recipe in the event pack (which called for stuffing the filets with cheese), we wanted to see what the quality of the meat was, so we seasoned simply. I seasoned three of them with salt and pepper, and three with CharCrust Roast Garlic Peppercorn rub.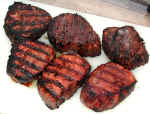 I seared each side at about 650 degrees, then shut down the air flow on the Kamado to dwell at about 450 until the internal temperature of the meat was 140 degrees.
As I'd expect from prime filet mignons, they were very tender, and had a lovely flavor.
This kind of packaging should make it easy for people who have to feed a small crowd. I'm looking forward to trying the other components in the pack.
In the meantime, this gift was very much appreciated here, because of the care and consideration of the givers, and the quality of the product.
If you have comments, please stop by our Guestbook.
---
Copyright © 2000 by Zenreich Systems. All rights reserved.
Revised: December 13, 2017