Skirt Steak
Here's a simple and quick preparation of skirt steaks.
Years ago, skirt steak wasn't popular, and it was cheap. Those of us from eastern European descent, knew how tasty this cut of meat was, and cooked it frequently.
It is a staple at restaurants like Sammy's Romanian in New York City where skirt steaks hang over the ends of large dinner plates.
It became very popular several years ago as the meat of choice for fajitas. And inevitably the price went up.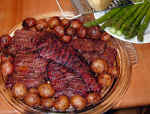 Before we got our Kamado, we would typically broil these steaks, and smother them in sautéed onions. In the photo above, it's served with herbed new potatoes and some steamed asparagus with butter and fresh Parmigano Reggiano cheese. Click on the small photos for a larger view.
We've never seen this vacuum packaging of skirt steaks in our supermarket before, but thought we'd give it a try. The meat is pretty thin, and is folded over in the packaging (two packages, each steak about 1 lb. are shown here)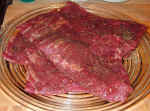 With the Kamado, we tend to either salt and pepper the meat, or give it a nice dusting of a CharCrust rub, as shown in the photo above.
Lauren made some new potatoes coated with olive oil and herbs, that went on the Kamado at 450 degrees about 30 minutes or so before I put the steaks on. The photo on the right is after cooking for 5 minutes at 550 degrees and turning the meat.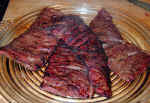 The finished meat, still steaming hot is on the plate above. Our boys fight over which piece they want. The photo below is from another dinner, this time served with grilled orange, yellow and white bell peppers.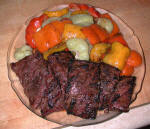 Any leftovers are great in sandwiches, hot or cold.
---
Copyright © 1999 by Zenreich Systems. All rights reserved.
Revised: December 13, 2017