HDS EDC Ultimate 60 flashlight
Placeholder page for HDS Systems flashlight photos... more text will follow ASAP.
Click on the small photos for larger views.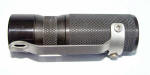 Stock configuration with HDS EDC clip
Comparing HDS EDC and Arc 4+ clips.
Notice that the Arc 4+ clip is bent so that the top of the clip is at bezel level.
I rather like this, as it facilitates the way I carry the Arc 4+, in a grommet on the spine of my New Sun wallet. This allows the light to be more centered on the wallet's side.
When I switched to the HDS EDC, as my every day carry light, I moved the Arc clip to the new light, as shown below.
The photos below show how it simply clips securely to the wallet. I carry the light bezel up in my front pants pocket. This allows me to remove the light from my pocket without having to remove the wallet (with a tug, the clip slips from the grommet, and the light is released)
Please sign the Guest Book so we know you dropped by!
---
Copyright © 2005 by Zenreich Systems. All rights reserved.
Revised: December 13, 2017