Flashlights
A couple of years ago, I developed an interest in flashlights, particularly the recent crop of hi-tech lights.
I like the technology, the craftmanship and electronic creativity that goes into some of these lights.
Of course, there are the obvious benefits of having quality lights at one's disposal...
So, I started looking around the internet for information about flashlights.
I found www.CandlePowerForums.com which provides a wealth of information about every conceivable type of flashlight.
I started acquiring lights of various styles, incandescent, LED, pocketable, high power, even microprocessor controlled. The group below is a sampling of the first lights I bought.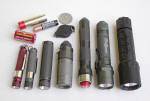 I'm even considering designing and building some lights of my own, with the mini-lathe in my little shop.
Because we think carrying flashlights at all times is a good idea, we've given keychain lights as gifts to many of our friends and relatives. So now we're just a little more prepared for the next time the lights go out.
I'll add pages as I make photographs and write text about the various light.s
If you have comments, please visit the Guestbook.
---
Copyright © 2005 by Zenreich Systems. All rights reserved.
Revised: December 13, 2017