Vacuum Chuck for Lathe
There are lots of ways to mount wood onto a lathe. These include using centers, drive spurs, faceplates, and all sorts of chucks (donut, jamb and scroll).
One of the biggest challenges is reversing bowls so that you can finish turning the bottom of the bowl (which may involve removing a tenon). I've used large diameter 'jumbo' jaws for the Oneway Talon chuck, and that does a pretty good job.
However this doesn't work well with irregularly shaped bowl rims, so rather than create jamb chuck for each new piece, I thought it time to venture into the world of vacuum chucking. Besides, new toys are sooo cool to play with!
Those who have done this rave about how much they enjoy it, and claim that it changed the way they look at turning techniques.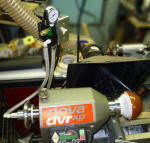 So I recently bought a Gast 0522 vacuum pump from a local Craigslist seller. I paid very little for it... but it needed a replacement carbon vane. Fortunately the repair was trivial, the pump works fine, and I figured it was time to order the rest of the setup from Tom at JT Turning Tools.
I received the oversize handwheel for my Nova DVR XP lathe, a vacuum adaptor that plugs into the handwheel, a vacuum kit (manifold, gauge, hose, filter and connectors), and their lovely chuck hub (uses 2" pvc inserts to create chucks).
I mounted the manifold and switch to a small piece of wood that's attached to a 24" length of 3/4" black iron pipe with some pipe straps. The pipe is affixed to my workbench with a flange. There is also a flange on top of the pipe... I'm considering using it to mount a small shelf there.
The only controls are the on-off switch and vacuum pressure adjustment valve... they are at eye level, and within easy reach.
The vacuum pump is housed below the workbench, behind a door in a closed (but well ventilated) cabinet. The pump is quiet, and I don't feel any vibration transferred to the lathe.
Here are a few of the photos of the installation
Click on the small images for larger photos
The vacuum adapter that fits into an oversized handwheel designed for the Nova DVR XP lathe.
When not in use, the adapter stores on a rod built into the manifold, behind the gauge.
In one photo you can see it pulling 27 inches of mercury. I've seen it go higher, there's plenty-o-suction!
The chuck hub accepts 2" pvc couplers. This one is a 2"x4" reducing adapter. I used some sticky backed closed cell foam for the padding in this, my first test. Worked out very well.
This is just the beginning of the vacuum adventure. I may also get into casting (for items like pen blanks) and the vacuum combined with a paint pot can help remove air bubbles from casting materials. More to come...