Apricot Garlic Pasta?
Alan thinks it's about time I start writing my own pages, so here goes. This is one of my all-time favorite recipes. It comes from the Silver Palate Good Times Cookbook, (the actual recipe name is L'Autunno) which I got as a gift from our good friend Bob, who only gives me cookbooks so I will cook for him. When I first saw this recipe, I thought it was a strange combination, but, being me, and the fact that I gravitate towards the strange (as evidenced by my being with Alan for so long), I couldn't wait to try it.
When people eat this dish, they have a hard time imagining the ingredients, but they are thoroughly hooked upon tasting. Sometimes I fool people by using the organic apricots, which are brown, not orange, so no one has a clue what it is. They think it's meat.
Click on the photos for larger, more detailed images.
The Ingredients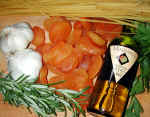 ¾ cup best-quality olive oil

15 cloves of garlic, 6 minced, 9 cut into thin slivers
I usually end up using 2 full heads no matter how many cloves there are (we all love garlic around here). Sometimes we use Elephant Garlic, which is much bigger but has a milder taste.

1 tablespoon fresh rosemary or 1-1/2 teaspoons dried
I prefer fresh, which I grind up rough in a coffee grinder we reserve for grinding spices. If you use the rosemary whole it feels spiky when you eat it.

1 cup dry white wine
I like to buy those little bottles of white wine from the liquor store. They hold about a cup and you don't want to cook with wine that you wouldn't want to drink. Never, ever, use "cooking wine" because it's usually low-quality wine with lots of salt added.

¾ cup dried apricots, cut into slivers

1 pound linguine

½ cup chopped fresh parsley
Preparation
Heat the olive oil in a skillet (I use my cast iron pan) over medium heat. Add the minced and slivered garlic and sauté until just browned.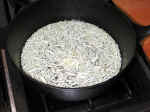 Stir in the white wine. Reduce the heat and simmer uncovered for 5 minutes. Add the rosemary and apricots. Season with salt and pepper to taste. Simmer 5 to 10 minutes longer. Alan reminds me to add that by this time your kitchen will smell fantastic, so be prepared for company.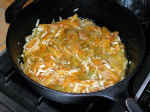 Meanwhile, cook the pasta in boiling water until tender but still firm, drain.
Place the pasta, sauce and parsley in a large serving bowl and toss to coat. Serve it hot or at room temperature. I suspect it's even good reheated, although we've never had any leftovers to prove this theory.
You might consider doubling or tripling this recipe. We brought this dish to a friend's bbq last night. People started sampling it. It was gone in 3 minutes flat, with people searching for more.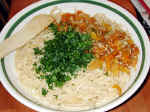 The work (which isn't a whole lot) is in the preparation of the garlic, apricots and herbs. This dish is really simple to make, takes no time to cook, and the results will thrill your taste buds. Try it and surprise your friends, but don't tell them what they're eating until they've tasted it. Then they'll beg you for the recipe. Enjoy.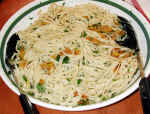 If you have comments, please visit the Guestbook.
---
Copyright © 2000 by Zenreich Systems. All rights reserved.
Revised: December 13, 2017