After considerable research on the web, I decided to enter the world of outdoor cooking in ceramics. This type of cooking is also discussed on the Kamado forum.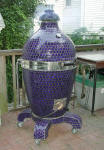 #7 Kamado 2003 model
The Search page lets you quickly find information by keywords
Please sign the Guest Book so we know you dropped by!
We got our cobalt blue #7 Kamado cooker in April 1999.
#7 Kamado 1999 model
I had ordered a Kamado cooker in early April directly from the Kamado Company
However, I wound up canceling my order a couple of days later because Karen and Nelson Wong of Adcent in the Baltimore area happened to have one in their warehouse that was just what I wanted.
So.... impulsive creature that I am, I drove to and from Baltimore from northern New Jersey (390 mile total trip) the next day.
The Nelsons were very gracious as they fed me lunch, and helped me load the big blue #7 into the back of my SUV. We took the top off of the cooker, making it much more manageable, and thank goodness for the wheeled base.
At the end of the drive home, it took a few good heaves up 4 steps to the patio... reassemble the top... and tah dah, it was ready and waiting for me to begin exploring.
What is a Kamado?
For those of you who are not familiar with this particular cooker, it's best described to people as a "Faberge' Egg with a thyroid problem".
The 425 lb. ceramic cooker is covered with over 3,000 cobalt blue mosaic tiles. The cooker is fitted with stainless steel hardware, and some very sturdy wheels.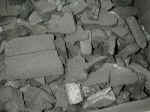 I primarily use lump charcoal as its fuel source, and temperature is controlled by regulating the air flow through the draft door and screw down damper top. I also retrofitted a Kamado gas burner, which is useful for lighting the coals or simple grilling tasks.
The cooker allows me to do "low and slow" cooking, where I might let a pork butt cook for 20 hours at 220 degrees. It also lets us go to the other extreme and cook a steak at 1,000 degrees for a couple of minutes. Our kitchen oven, and Ducane gas grill are getting very lonely.
The links on the left take you to pages that show various attempts at cooking with this remarkable tool. It's been quite an adventure, learning about new techniques and tools.
If you have comments, please visit the Guestbook.
---