Harira -- A Morrocan favorite
When Lauren got a recipe from an Email subscription service called TipWorld, she showed it to me and it looked like we'd have a nice time making this traditional fragrant Moroccan dish.
After doing a little internet search, I found out that this dish is traditionally cooked during Ramadan. There are many many versions of this dish, some vegetarian... but because we are fond of lamb, we gave this one a try.
Lauren was supposed to cook the meal, but she got tied up with a client, so I wound up in the kitchen. This dish cooks for about 2 hours, and my my my, did it make our house smell wonderful.
I based my cooking on the TipWorld recipe, but added the turmeric and the eggs and the lemon zest.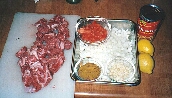 Ingredients
2 large lamb shoulder blade chops, cubed

2 tablespoons olive oil

1 large onion, minced

3 large cloves garlic, chopped

2 tablespoons best-quality curry powder

1/2 teaspoon ground cinnamon

1 tsp turmeric

1 medium tomato, chopped

2 cups beef broth

1 14-oz. can chickpeas

Juice of two lemons

2 eggs, beaten

Parsley, cilantro or lemon zest for garnish

Heat the oil in a large, heavy pan. Brown the onion. Add the garlic, and stir for a minute or two. Add the spices and stir.
Add the lamb and coat it completely with the spice mixture, allowing it to fry for a few minutes, followed by the tomatoes.

Pour the beef broth over it, and as soon as it begins to boil, turn the heat down to a gentle simmer.
In a small bowl, drain and mash half of the chickpeas. After a half hour, add them along with the whole chickpeas to the simmering soup and cook for another hour.
At the end of the cooking time, I stirred the pot contents, and swirled in the beaten eggs, forming long strands, like in egg drop soup. This added a lovely texture and taste to the soup.
Finally, squeeze in the lemon juice.

Many people garnish with cilantro, but I'm one of those people who thinks it tastes like soap, so I don't care to use it. I ran out of fresh parsley so I topped each bowl with some lemon zest, and served some lemon juice on the side to spoon into the dish.
This recipe yielded 4 bowls of a very hearty soup. Next time I'll double or triple the recipe.
We were delighted with the results of this recipe. Our boys ate it eagerly. This is one we'll be sure to make on cold winter nights.
---
Copyright © 1999 by Zenreich Systems. All rights reserved.
Revised: December 13, 2017