Cabbage Soup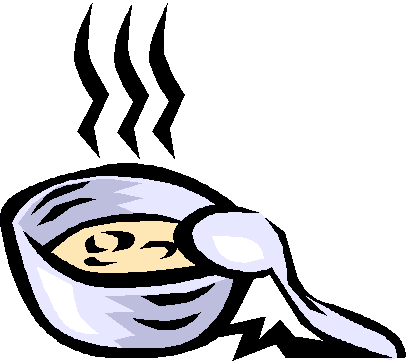 One day several years ago, my grandmother Rose (the Bubbeh) came and stayed at my home while I was away on business. Lauren watched her cook and wrote down close approximations of her recipes (Bubbie, like many, never really measured anything).
The result was the "Bubbie Cookbook" that we pass around to family and friends. Our Bubbie was all of 4'10" at her tallest...a focal point for our family. She lives on in our memory, in no small part through the food she prepared for us, with love and devotion. When she would ask what kind of holiday gifts she should buy us, we declined, asking her to cook for us.... giving a gift only she could give. Her cabbage soup recipe is my personal favorite.
Over the years, we tended to rate batches of cabbage soup in much the same way as some folk rate vintages of wine.... "Oh, this was a batch almost as good as the one she made during the big snow storm"... etc.
This recipe is a loose translation of Bubbie's soup. There are no hard and fast proportions here. For example, we typically put in twice as much meat as she did, and we find that it gives a wonderful richness. We find that 3 to 4 lbs of meat (on the bone) is about right for this recipe, though you could get by with much less. The vinegar is also our addition. It helps the sweet and sour quality, and wakes up the other flavors.
The way it works around here is to do the basic recipe, and then during the latter part of the cooking, "Fuss" with it until it's done… tweaking the lemon, sugar, vinegar and salt.
This soup is wonderful when just cooked, but it really comes into its own after being refrigerated for a day or two… the tastes marry wonderfully. If you are going to let it rest, then you might consider "over doing" the original tastes, for example, adding additional lemon that would be a bit too pronounced in the fresh soup, but it will mellow nicely overnight and during reheating. The real trick is resisting eating it all before it gets a chance to mellow.
So, here goes…
Flanken (or short ribs) see notes for quantity

3-4 lbs cabbage

6 lemons

2 MacIntosh apples

3/4 cup uncooked rice

2-3 cans tomato sauce

1 onion

¼ cup cider vinegar

Sugar to taste

Salt to taste

Black pepper to taste

Raisins or craisins (cranberry) optional
Cut up the meat and remove fat with sharp little knife. Wash the meat and place in a pot. Cover with water and bring to a boil. Cover, cook with a small fire. Skim off the fat and dirty things that come to the surface..
Meanwhile, cut cabbage into quarters. Cut out the cores. Shred it -- cut into strips and place into a large bowl. Add a little salt to take out the bitterness. Mix through. Pour hot water over the cabbage and leave stand a little while.
To 3/4 cup uncooked rice, add 2 peeled and cut (small slices) Macintosh apples.
Drain the cabbage. Add to the pot with the cooking meat. Add the apples and rice. Stir, cover, and bring to a boil. Add 3 cans of tomato sauce. Peel an onion and add it to the pot.
After about 1 hour add the juice of 3-6 lemons (to taste); 6 tablespoons of sugar, 1 teaspoon of salt. Adding some cider vinegar gives it a kick. Add raisins and/or craisins (dried cranberries). Cook another 1-1/2 hours until meat is tender and tastes just right.
Remove the onion and serve.
Goes great with a nice bread.
---
Copyright © 1999 by Zenreich Systems. All rights reserved.
Revised: December 13, 2017