Riding Gear
Riding a motorcycle is very different from driving in a car.
You're out there in the elements and weather (good and bad), not snuggled in a climate controlled enclosure.
For me, good riding gear is as much a matter of comfort as it is for safety. If I don't feel safe, I don't feel comfortable. Also, I like to be warm in the winter, and cool in the summer... well, at least be as comfortable as is practical.
So, I'm not likely to ride without reasonable protection. Full face helmets, gloves, jackets, boots... they all are part of my getting on a bike. I'll leave the t-shirt and sneaker attire to others.
Outfitting a rider and passenger with good gear is an investment and a commitment.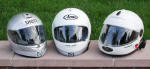 As of this writing, the gear is shared between me and my passengers and includes:
Arai Quantum /e helmet

Schuberth Concept helmet

Shoei RF900 helmet

Belstaff Typhoon jacket

BMW heated vest

BMW AirFlow summer jacket

FirstGear Kilamanjaro jacket

Some leather and cordura jackets from my earlier riding period

FroggToggs rain suits

Sidi Champion boots

Women's boots for Lauren

Harley Davidson kids boots for Josh

Alpinestar gloves

Dianese back armor

BuddyBelt passenger handholds

Chatterbox rider/passenger intercom
I'll make some pages that make pages for some of the gear we've acquired.
For the moment, take a look at the Helmet link at the left.
---
Copyright © 2001 by Zenreich Systems. All rights reserved.
Revised: December 13, 2017