Returning to motorcycling
I can sometimes be an impulsive person.
For example, when I was 16 years old, I decided I wanted a motorcycle... and when I was 32 I got one.
Ok, maybe I'm not that impulsive.
In 1984 I acquired a 1983 Honda Nighthawk 650 and rode it for 10 years. At the end of that time, I wasn't riding much, and finally gave up the bike.
However, late every winter... the urge begins again... and in the spring it gets more intense. It was particularly strong last season because there is a Motorcycle Safety Foundation (MSF) training course given near my home, and I see them training.
I took the MSF beginner's course in '84 and enjoyed it so much that I took the Better Biker's course twice in '85.
We are new members of the Bergen County Players community theater. Several of the members ride motorcycles, one even rides a Goldwing trike. They enjoy riding socially... so that was even more of a draw for me.
In February 2001, I decided to return to motorcycling. I looked at many bikes, trying to find one that would fit my style, and short inseam.
I think I found a fine machine... a 2001 BMW R1200C.
Click on the small photos for larger images.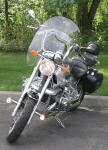 The dealer is BMW NY. I bought the bike at their Manhattan location, but went to see the bike for the first time at their Huntington shop.
The "C" in R1200C stands for cruiser. This is a very modern motorcycle. It has electronic fuel injection and engine management, an anti-dive suspension, shaft drive, and anti-lock disc brakes.
This particular bike is the Montana edition that came equipped with some nice creature comforts:
Windshield
Engine Guards
Heated hand grips
Saddlebags
Passenger comfort seat
Modifications I've added include:

The first look page is the beginning of the adventure, I'll add new pages as I make more photographs.
For those of you who might remember, the R1200C was the bike ridden by James Bond while he was handcuffed to Wai Lin in the movie "Tomorrow Never Dies". Of course, now I have to convince Lauren to learn to ride backwards in front of me....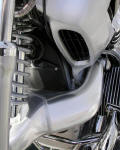 One of the things I like most about this bike is the way the lines flow, as in the photo above. I think the BMW stylists did a wonderful job integrating the suspension into a unique, and quite beautiful look.
More photos of the second look at the cruiser can be found by clicking here.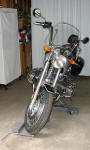 The photo above shows the cruiser parked on a CycleSlider, a great device that lets me turn the bike around in my narrow garage. There more details if you click here.
Being on the internet makes it easy to find all sorts of information about this machine. One particularly useful resource is the www.Chromeheads.org site. I'll add more resources as our motorcycling pages evolve.
If you have comments, please visit the Guestbook.
---
Copyright © 2001 by Zenreich Systems. All rights reserved.
Revised: December 13, 2017