Motorcycle Modifications
My BMW R1200C Cruiser came very well equipped.
This particular bike is the Montana edition that came equipped with some nice creature comforts:
Windshield
Engine Guards
Heated hand grips
Saddlebags
Passenger comfort seat
Modifications I've added include:
Bagster tank cover as part of a tank bag system
Motolight auxiliary lights
AeroFlow windscreen to replace the stock Montana screen
AeroFlow Handguards (seasonal, not shown in photo above)
Wilbers shocks
Kisan PathBlazer headlight modulator
Kisan TailBlazer taillight modulator
Kisan chargeX and chargeGuard
AutoCom Pro M1 intercom
Roady 2 XM satellite radio
Apple iPod
Garmin 2610 GPS
Kenwood GMRS 2 way radio (bike to bike communication)
Cruisin luggage rack
Givi top case
RiderLight helmet lights
Here are a few photos of the devices on my console.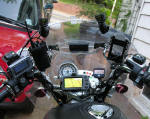 On the left grip is an XM Roady satellite radio, a RemoteRemote2 wireless iPod controller, Motolight switch, and the Kenwood GMRS 2-way radio on a RAM mount.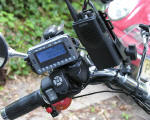 In the center is a Garmin 2610 (2gb memory) also on a RAM mount, and the ChargeGuard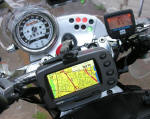 On the right grip is an original style ThrottleRocker, a Glisson amplified antenna for the Garmin, and an extra RAM mount (to mount a CB radio or cell phone).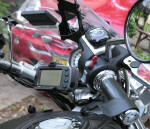 Lots of toys!
I'll make pages for each of the little modifications as I go along.
For the moment, take a look at the links at the left.
---
Copyright © 2001 by Zenreich Systems. All rights reserved.
Revised: December 13, 2017