BBQ Guru
Although maintaining temperature on a Kamado is not a particularly difficult thing to do, I was interested in a new development coming from Shotgun Fred of TheBBQGuru.com.
When I got my BBQ Guru, I made some photos of the unit. It's since been upgraded to the version with the new temperature control knobs, but they are not shown in the photos.
The new style knobs makes setting the temperatures much more predictable.
The old style knobs had an index line at the top of the knob which made setting the temperature less accurate because of possible parallax problems sighting the index line to the scale.
The index line on the knob is now at the same plane as the temperature scale. The new knobs cost only a couple of bucks.
The automobile jumpstart unit shown at the bottom of this page is used to power the Guru (my cooker is not near an AC outlet)
The unit works well... holds temperature nicely. I'll update the page from time to time with notes.
There have been refinements to the unit over the past year or so, and some new models introduced. Perhaps I'll get an opportunity to test the latest incarnations.
Click on small photos for larger images.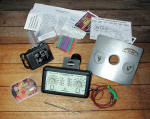 ---
Copyright © 1999-2004 by Zenreich Systems. All rights reserved.
Revised: December 13, 2017