On July 2, 2000 the Special Events Committee sponsored a fireworks display in our town. The show was presented by the highly respected Fireworks by Grucci pyrotechnic team (probably best known for their 4th of July Macy's Fireworks display in New York City), and was very well attended.
The night was clear, the accompanying music was well done, and the fireworks themselves were stunning (national quality level). Click on the photos for larger views.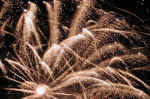 This was my first attempt at photographing fireworks with a digital camera. For those of you who might care about the technical details, I fashioned a cable release holder for my Nikon 990, and put the camera on a tripod. It was very convenient to orient the LCD to a comfortable viewing position, and rotate the lens skyward.
All images were photographed as horizontals in 2000x1500 resolution with normal compression. I cropped some of them to verticals, and resized them to 800x600 for this web page.
I used manual exposure mode with speeds of 2 or 4 seconds, and the smallest aperture I could get (about f/7 - f/10 depending on focal length), and an ISO of 100. Because the fireworks varied greatly in brightness, the results also varied. Don't forget to set the focus to infinity, no sense trying to focus on the fireworks themselves.
The photos above are some of the nicer images of the set of 60 that I captured.
I hope you enjoy them.
Please sign the Guest Book so we know you dropped by!
The Search page lets you quickly find information by keywords
---
Copyright © 1999 by Zenreich Systems. All rights reserved.
Revised: December 13, 2017