Lens cleaning pen
Over the years, I've tried many methods of cleaning camera lenses. I've tried everything from lens tissue, cleaning fluids, and yes, heavy breathing on the lens followed by a wipe with a T-shirt. Obviously, the latter technique is not the preferred one, but breath and shirts are generally at hand.
I was looking for a better solution to the problem of keeping my digital camera lens clean, and I came across a product that I'm quite happy with.
I recently started using a lens cleaning "pen" that I picked up at a camera store. The pen is manufactured by LensPen and is marketed under several brand names (mine is a Hakuba brand). The LensPen website has more information and a F.A.Q. sheet.
There are two versions of the pen. I chose the one with the smaller pad called the MiniPro (5/16" diameter) because the larger pad version seemed like overkill for the tiny Nikon lens.
The composite photo shows the pen closed, open, and with an insert photo of the tip detail. Click on the small photo for a larger view.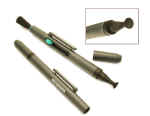 I was originally a bit skeptical about this device, but now I'm a convert. It's a bit odd to be so enthusiastic about lens cleaning, but it's not often I find simple solutions to long term annoying tasks.

This little tool really is quite remarkable. It's light, easy to use, and most importantly, it does the job quickly and perfectly. That's a rarity in today's market < s >

One side of the pen has a slide that controls a retractable soft brush, to remove any particulate matter on the lens.

When you remove the cap on the other end of the pen, a soft cleaning pad is revealed. The pad is impregnated with some substance that immediately and effectively cleans the optical surfaces I've applied it to. Fingerprints almost magically disappear, with no smudging or streaking... I was very impressed the first time I tried it.

I keep the LensPen in my little camera case, so it's always at hand. I think I paid about $8 for it, and it came with an extra pad cartridge. I don't know how long the cartridges last (it probably depends on use and evaporation).
---
Copyright © 2000 by Zenreich Systems. All rights reserved.
Revised: December 13, 2017