There was life before computers. I was a professional photographer for many years. The last 8 years of my career was as a commercial/advertising photographer. I had a studio on 5th avenue and 14th street in New York City. The care and feeding of a studio became less attractive to me back in the late 80's when I found myself spending more and more time in front of my computers. My assistants got tired of seeing the back of my head.
When I closed my studio in 1989 to do database work full time, I sort of put those photographic brain cells on hold. During that time, I basically used point and shoot cameras for family photos, letting my view cameras and high end 35mm equipment hibernate quietly.
In March 2000, I got a Nikon CoolPix 950, and I've been having a ball with it. Synapses in my head that have been long dormant are beginning to awaken. I replaced the 950 with a 990 in May (it has higher resolution and more manual controls, both are important to me).
I've owned a few digital cameras over the years, but the quality was (until recently) pretty awful. My first was a Logitech Fotoman (circa 1992, shown below, photographed with the 990). It is a 256 gray level camera that could capture 32 pictures with 376 x 240 resolution, before downloading to a computer. I used this to prototype a database system that would allow storage of digital employee ID photos.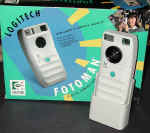 Of course, turnabout is fair play, so I thought it might be nice to use the Fotoman to make a picture of the Nikon CoolPix 990, for your entertainment.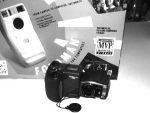 It turns out that this was no trivial task. I had to resurrect an old Windows 3.11 machine, find the original software disks (as the software on the Logitech site simply wouldn't work with the camera).
Because the old AST 386 25/SX notebook computer had only one external serial port, and that was generally used for the mouse, I disabled the mouse and hooked the Fotoman to Com1... lots of fun using only a keyboard!
I needed to get new internal NiCad batteries and start fussing with the camera and its neutral density filter (to prevent flash overexposure). The camera is fixed focus, and doesn't do particularly well in close up situations... but then again it doesn't do well at distance photos either <s >.
I persevered, so click on the photo above to see the original .TIF image that the camera produced. If clicking on the photo does not produce an image, click here for a .JPG version of the file.
Things have changed a lot in the years since 1992. Over the course of that time, I bought and returned several digital cameras, including the first of the Casio line... but the image quality simply wasn't good enough for me.
The Nikon CoolPix 950 with its 2 megapixels was a great reintroduction for me, and the 990 is a 3.3 megapixel camera, with a full color 2048 x 1536 resolution.
Now, using a digital camera allows me to take photos while I'm cooking, and update my web site that same evening.
Of course, as my photographic sensibilities return, I get frustrated. A single flash on camera is fine for many people, but I wanted something with a little more control over the lighting. The flash bracket page is an example of the kind of solution I look for.
I've also decided that I'll scan or digitize my professional portfolio and post the images here for your entertainment. I was one of the first professionals to combine photographic and computer graphic images, way back when, but most of my special effect work was done purely in camera, or in my color darkroom on large format transparency material.
I'm still trying to decide on a practical way of digitizing the 8x10 transparencies. My first tests are ok, but I might be able to improve them. So please be patient.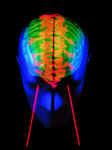 An example of my old portfolio is the photo of "Sidney" above. This photo was done circa 1988. Keep in mind that it was done purely photographically, no computer manipulation, just several pieces of film and a lot of photocompositing in my darkroom.
For photographing still-lifes, I'm resurrecting my old Dyna-Lite 2000 studio strobes. This pack has way too much power for the digital camera, but I can dial back the power to where it's low enough and not overexpose everything. The photo below was a simple test using a single flash head into a 36" x 48" Chimera light bank. I used the SB22 on the camera to trigger the slave eye in the pack.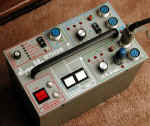 Now for a first little test of the macro capability of the 990: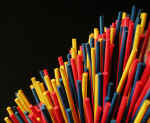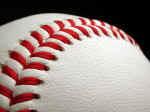 I've decided to build a little tabletop studio setup in my rather small home office, the photo below of the Nikon F3 was my first test of the lighting setup. I figured that since moving to digital photography, my 35mm equipment should at least be the subject of some photos, lest they get bored and jealous. More details are on the Studio Lighting page.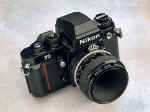 A little update 2009
After the CoolPix 990, I went to a CoolPix 8800, then to a Nikon D80 digital SLR.
I also use some compact cameras, most notably a Lumix DMC-FX500
Adding to that are a couple of Canon high definition video cameras (HV30 and HV20) and a Flip Mino HD.
The Search page lets you quickly find information by keywords
---
Copyright © 1999 by Zenreich Systems. All rights reserved.
Revised: December 13, 2017