---
This page is an attempt to answer some questions that have been asked about my photography. It will also serve as a place for me to put some freeform notes as I think of them.
If you have questions, send them to Admin@Zenreich.com and I'll try to add them, and the answers, to this list.
---
Why do you put your copyright notice on your photos, do you think your photos are that special?
A copyright declaration has nothing to do with the content or quality of a photo, it is about the right to reproduce those photos, and the legal remedies available to author in the event of an infringement.
If you would like to read a bit on the issues, you can do some research starting with Philip Striplings Internet Law Page and the 10 Big Myths About Copyright Explained page.
---
Wow - a 2000 watt-second strobe, do you think that's enough?
I closed my NYC commercial photographic studio in 1989 years ago to concentrate on my database stuff. Most of my work back then was with 8x10 and 4x5 view cameras, a lot of close-up work, with a long bellows factors influencing exposures.
So, not only was 2000 w/s a reasonable "starting point" for exposures, but many studio photographers had units that were many many times that power. I spent a lot of time in the dark doing multiple pops of the flash to achieve f32 or f45 or f64 apertures with Ektachrome 64 (which I processed in my own lab for photocompositing, etc.)
It's so nice that with shorter focal length lenses (maybe 12mm for a digital versus 210-300mm for an 8x10 film) that you can get away with much larger apertures, and the shorter lenses have inherently more depth of field. So, the power needed to make nice shots with these new, less demanding toys is minimal.
So, I find myself dialing the Dyna-Lite 2002 pack down to 125 w/s per head (splitting a 250 setting) and pumping the light through a Chimera soft light bank. Even then, sometimes I need some neutral density.
But, with this Dyna-Lite 2002 pack sitting around doing nothing, I thought I'd resurrect it and put it back into service. In its day, this was the lightest pack available... very hi-tech. It weighs only 18 lbs (the closest competitor at the time weighed 29 lbs), and has an opto-isolator circuit so there is no physical connection between the flash condensers circuit and the camera. Cool stuff.
---
Only one of my three Compact Flash cards came with a case. Any suggestions on how to store the spare in a small camera bag?
If you go to any coin collector store or possibly hobby store you can generally find sheets of coin holders that do very well with the CompactFlash cards.
They generally come in 8.5x11 inch sheets that are perforated so you can pull off two attached pouches at a time. I just made the photo below to demonstrate how I've been using them (I also have a couple of the holders that shipped with some other CF cards too, also shown). The opening in the pouches is 1.75x1.75 inches.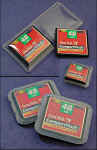 Notice that when you put two cards in the coin holders, the plastic folds easily (in either direction), and to remove a card, you simply give the "closed" end of the pouch a squeeze and the card slides out the open end. I use these kinds of holders for all sorts of things. The "real" CF holders have a nice little plastic clip and are rigid, the coin pouches are soft.
Why upgrade to the Nikon 990?
I had my 950 for about two months before changing to a 990.

The inconvenient things about the 950 were really starting to bother me, most notably having to remove it from the tripod to remove the CF card.

This is a drag in a still life situation because I'd set up a shot, and want to review it on the computer before continuing... removing it from the tripod was a major pain, not just inconvenient. In addition, the camera didn't sit flush on the tripod, and the threads were not metal. Oh, and having it not retain its zoom and focus settings in studio shots was very very annoying... the 990 solves that problem.

But for me, the BIG reason for the 990 was full manual control over exposure and focus. Now I can capture the images the way I want them, instead of the way the camera thinks I want them .

The new menu system lets me change the flash power, or turn off the internal flash in a very few seconds (it's nice to shoot with the menu still being displayed, and make changes in exposure quickly....the menu is suppressed when the shutter button is held down half way). So, though I was skeptical that the conveniences would be enough to justify switching over to the new camera, I have to say that the 990 lets me make photographs that I would not, or could not have made with the 950.... this is a good thing.
How big a print can be made from a digital camera image?
The director of a local production of Oliver asked me if I could photograph an old 8x10 lithograph that was laminated onto a serving tray. The lithograph is a copy of a Thomas Shephard drawing that was engraved by J. Tingle, probably around 1840 or so. He explained that he wanted to have it enlarged as a background set for the stage.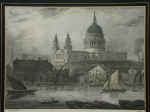 So, I took my trusty 990 and lit the tray with soft tungsten illumination, and gave the director a CDRom with a few versions of the image on it (mostly color balance variations). The photo above most closely matches the original neutral colors.
He took my file and tweaked it a bit in PhotoShop, warming the colors to match the rest of the stage set, and handed the file to the lab. The final print is 11 feet high by 21 feet wide. Yes, of course it's grainy... but from a distance it looks just great!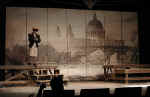 So... if anyone asks how big a photo you can make from a digital.... well, you can tell them... as big as a wall.
By the way, the photo is sectioned into 7 panels that revolve to show other set items on the back of each panel. Nicely designed.
---
Copyright © 1999-2000 by Zenreich Systems. All rights reserved.
Revised: December 13, 2017