Camera Case for CoolPix 990
When I was using a CP 950, I got a nice little carrying case made by CaseLogic. However, the 990 is slightly larger, so the search for a case began.

I wound up purchasing a LowePro D30, and I'm pretty happy with it.

I like it for a couple of reasons.
It lets me carry a little more than the smaller bag I used before with my 950.

I can use the carrying strap as either a shoulder strap or as a waist band (carrying it as a fanny pack on my hip).

The brushed-tricot lining is gentle on the camera and LCD screen.

There is a movable vertical partition.

It because it uses a zipper instead of velcro to close the cover. This is particularly important when trying to open the bag in a quiet environment (the sound of velcro separating during a stage play is thunderous!)

I've used the fold-out rain cover several times... it's nice to know it's there.
Click on the small photos for larger images.
The case has a couple of small pockets inside that I use for compact flash cards and batteries. The attached "All Weather" cover tucks into a flap on the back of the case. I wound up using the cover on the way back home from the camera store on the very first day... very handy.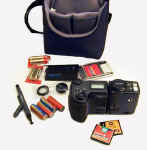 The photo shows my typical compact kit (this entire bag gets put into a shoulder bag with my flash, bracket, TC-E2, etc, if I need more than just the basic camera essentials).
CP 990
2 extra memory cards (the third is in the camera)
4 extra NIMH batteries (and 4 in the camera)
4 Lithium batteries (for emergencies)
Filters
PCMCIA adapter
Credit-card multi-tool/knife/magnifier/tweezers
Lens cleaning pen (works wonderfully)
A little room left over, in case I want to stash my keys or a mini-pod
If you have comments, please stop by the Guestbook.
---
Copyright © 2000 by Zenreich Systems. All rights reserved.
Revised: December 13, 2017