Fish Fillets
Lauren brought in some nice fish fillets.
These are Tilapia, a commonly farm raised fish. While doing a little research after dinner, I came across the American Tilapia Association web site, that has some interesting information about how and where these fish are being raised.
Well, back to the food... click on the small photos for larger images.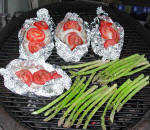 Lauren prepared the fish simply by drizzling with some good olive oil, a sprinkle of dried oregano, and topped the fish with some sweet Vidalia onions and slices of vine ripened tomatoes.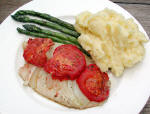 I brought the Kamado up to about 350 degrees, and decided to leave the foil packets open on top so they could absorb a little bit of the flavor from the coals (as opposed to simply steaming in a closed packet.)
We added some asparagus that was marinated briefly in Italian salad dressing. Lauren finished off the plate with some rich mashed Yukon Gold potatoes.
The Tilapia was moist and tender, all the ingredients came together nicely with no one flavor being dominant. Obviously this combination of ingredients work out just fine on pretty much any fish fillet... from flounder to mackerel.
This was a very nice meal.
If you have any comments, please visit our Guestbook.
---
Copyright © 2000 by Zenreich Systems. All rights reserved.
Revised: December 13, 2017