Whole Salmon on the Kamado
I had the good fortune to be invited to our friends' (Christine and Terry) daughter's graduation party. Being that I live 600 miles from them, I wasn't expected to attend, but I decided to pay a surprise visit.
My help in the kitchen was most welcome, as there were many dishes to prepare, and Chris was happy to let me handle the outdoor cooking.
I brought a 14 lb. brisket with me, because they couldn't find a full cut locally, and I thought it might be a nice surprise. The beef cooked from 6 p.m. on Saturday until 11 a.m. on Sunday... for a 2 p.m. invitation.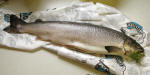 Chris had an 8 pound salmon in her refrigerator, and had solicited the folk on the Kamado forum for cooking suggestions. There were many great suggestions, and we decided to try cooking this one whole. Click on the small photos for larger views.
I'd never cooked a whole salmon before, and because this was a buffet meal, we thought it would be nice if it was served intact (rather than as filets or steaks).
When the brisket was done, it was time to prepare the salmon, figuring that it would take about an hour to cook, and we wanted to serve it at room temperature.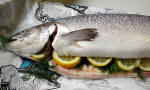 We massaged some olive oil all over the fish, added some salt and pepper, then stuffed the cavity with dill, Vidalia onions, and lemons.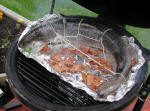 In order to fit the fish on their #5 Kamado, I trussed it with some string, bent the fish, and pulled the tail towards the head. We made a makeshift tray out of some aluminum foil and placed the fish on it.
I forgot to oil the foil first, and it made removing the fish later a bit trickier than it needed to be, so don't forget to do so if you try this.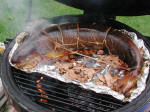 I made a little foil pouch that contained some soaked alder wood chips and tossed it on the coals. I put some extra chips around the fish and added a little water to the foil. The photo above shows the progress after cooking for the first 30 minutes... the smoke gave the fish a nice rich color.
Total cooking time was 60 minutes at 325 degrees.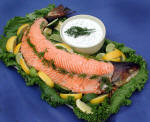 When the fish was done, I took it off the Kamado, and let it cool for about 30 minutes so it would be easier to work with. We moved it to a bed of greens, and I carefully removed the skin.
The dish was garnished with some lemons, limes, and dill. We made a sauce from yogurt, dill, onion and roasted garlic.
I'm pleased with this first attempt at serving a whole fish for a buffet. The simple preparation let the flavor of the fish come through, the meat was tender and moist. People seemed to enjoy the presentation, so I'm sure I'll do it again soon.
---
Copyright © 2001 by Zenreich Systems. All rights reserved.
Revised: December 13, 2017