Garlic Shrimp
I (Lauren) was shopping at our local warehouse club when I noticed these beautiful, colossal shrimp (about 8 to the pound) on sale. Well, one look at these babies told me I had to have them for dinner that night. Our youngest son, Josh, was in full agreement.
When we got home, I went directly to a new book we recently purchased, The Best Recipe, by the Editors of Cook's Illustrated Magazine. This book is a compilation of their best recipes (fancy that!) and since I LOVE their magazine, this was a no brainer. As soon as I turned to the section on seafood, I was entranced by their recipe for Charcoal-Grilled Shrimp with Spicy Garlic Paste. Sometimes you just know something's right. This was what I wanted for dinner that night, no questions asked.
Click on the photos for larger, more detailed images.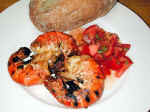 It's easy, fast, and tastes amazing. I made a simple tomato salad with olive oil and fresh basil, and a nice bread for accompaniment.
The Recipe
The recipe calls for brining the shrimp first. We almost always now brine our poultry but this is the first time we've brined shrimp.
They don't recommend brining for poaching and other wet cooking techniques.
The authors did some tests and found that the brining lets the shrimp retain more moisture when cooked with a dry method (grilling or pan frying, for example). They recommend a fairly strong salt solution, 3 cups of kosher salt dissolved in 5.5 quarts of water for 20 to 25 minutes. (The original text of the book specified 5.5 cups of water, but we suspect that to be a misprint.)
They argue that at its best, brining turns potentially mushy shrimp into shrimp with a chewy texture similar to lobster tail. With the shrimp we cooked, this was certainly the case.
Some other cooks call brining a sort of "returning the shrimp to the sea" to replace some of the lost moisture.
The Ingredients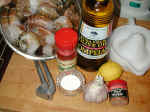 1 large garlic clove, peeled.
Actually, if you know us at all, you know how much we LOVE garlic, so I used 3 cloves.

1 teaspoon salt

1/2 teaspoon cayenne pepper
This makes for a lovely tingling sensation on your lips when you eat the shrimp. This amount of cayenne was just right.

1 teaspoon paprika

2 tablespoons olive oil

2 teaspoons lemon juice
Because I used more garlic than was called for, I compensated with more olive oil and lemon juice.

2 pounds of large, brined shrimp, with the shells still on
Preparation
Mince the garlic with the salt into a smooth paste. Then add the cayenne and paprika and mix together well. Add the oil and the lemon juice to form a thin paste.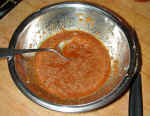 You don't want it to be too loose, it needs to cling to the shrimp. Toss the shrimp with the paste until it is evenly coated. You can cover and refrigerate this mixture for up to an hour. We immediately put it on the grill.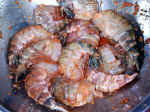 If your shrimp is small enough to fall through the grill grate, thread the shrimp onto skewers. We placed ours directly on the grill and turned it once. It should only take 2-3 minutes a side. The shrimp is done when the shells turn bright pink.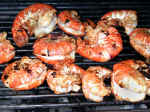 This meal was quite good... and both our boys commented about the lobsterlike meat in the shrimp, so we'll certainly do this one again.
If you have comments, please visit the Guestbook.
---
Copyright © 2000 by Zenreich Systems. All rights reserved.
Revised: December 13, 2017