Quite a Ribbing
These photos are from my first test of the sliding drip pan setup. The task was to do 4 racks of baby back ribs.

I put 2 racks on the grate, and 2 racks on an 18" grate that was supported by two firebricks (making a second level about 6" above the top K's grate).
Then again, I could have turned them on their sides and used a rib rack (some roast V racks work well when turned upside down)
The drip pan is suspended under the grill, ready to catch any drippings, and deflect the direct heat. If you're interested in the drip pan, take a look at the link at the top of this page..
I let the ribs sit overnight coated with JJ's rub and let it marinate overnight.
About an hour before I was about to cook, I gave the ribs a light coating of yellow mustard and another light coating (I use a shaker can) of rub.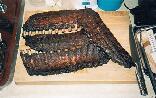 It took about 4.5 hours at ~250 to cook.

We served them dry with some sauce that we picked up at our local butcher. This bottled sauce is pretty good, it's called Sara's Gourmet Barbecue Sauce... it's made in South Fallsburg, NY. The ingredients (in order) are Tomatoes, honey, soy sauce, vinegar, corn syrup, garlic, black pepper, salt, dehydrated onions, spices and other natural flavor.
It's a nice sweet sauce, but the flavors are complex and interesting... if you think about it you can pretty much taste and isolate most of the ingredients.
We tried this sauce a couple of weeks earlier, and decided to keep a bottle or two around. We used it sparingly, because the ribs were very flavorful and moist even without it.

For other batches of ribs I've done (like the racks in the photo above) , I used the Kansas City Sloppy Ribs from the "Smoke & Spice" book. When I do that version, I also make a batch of the "Struttin' Sauce" from the same book, and baste some of the sauce on the ribs about 20 minutes before the ribs are to come off of the grill. This wonderful sauce has two things going for it. First, it is delicious... second, it make your kitchen smell incredible... a good thing in and of itself.
---
Copyright © 1999 by Zenreich Systems. All rights reserved.
Revised: December 13, 2017