Pork Tenderloin
I was talking with Chris W. about things we were cooking on our respective Kamados and she mentioned how much she liked the way pork tenderloin came out.
I had never cooked one on the K before, so it was time for a try.

I got a package from the meat case at the supermarket that contained two 1.25 lb tenderloins. There were various prepackaged versions with different marinades, but I selected just the meat, I wanted to do my own marinating.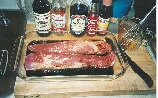 Marinade ingredients
Soy sauce

Worcestershire sauce

Rice wine vinegar

Chili oil (a few drops)

Sesame oil
I mixed the ingredients together, not paying much attention to the proportions... just going by feel. Although the photo shows the meat sitting in a pool of marinade in a glass dish, I decided to move it to a zip-lock bag and put it in the refrigerator for about an hour.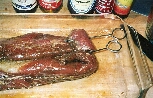 When the meat was done marinating, I folded over the "tail", the thin end of each piece and ran a skewer through each one to tuck the tail against the body (for more even cooking)

I preheated the Kamado to about 450 degrees and seared all sides of the meat. I then turned the heat down to 325 and cooked for a few more minutes until the internal temperature read 140 degrees.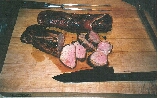 After resting for about 10 minutes, it was ready to carve.
Our boys kept picking at pieces of meat, it was very well received.
We did have some leftovers, and ate them two days later, with a sauce that I made from some Madeira wine, some cherries soaked in wine and some butter. Oh, for fun, I had our sons gather around while I flambéed the sauce.
---
Copyright © 1999 by Zenreich Systems. All rights reserved.
Revised: December 13, 2017