Pork Ribs
Lauren picked up two large racks of pork ribs from our local wholesale club. I normally cook baby-back ribs on our Kamado, but it was time for a change.
I coated them with a dry rub and let the ribs sit in the refrigerator overnight.
The Kamado was brought to 240 degrees, and I tossed on some pecan wood chips for smoke. There is a drip pan under the grill supported by the Kamado's lower brackets.
After about 4.5 hours cooking, I basted the ribs with a very nice sauce I purchased online from The BBQ Shack. If I choose to baste with sauce, it's usually in the very last stages of cooking.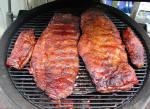 The photo above shows the ribs after about about another 10 minutes cooking with the sauce.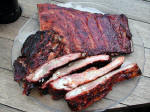 After another 15 minutes the thinner rack of ribs was ready to come off the cooker, the thicker pieces of meat were left to cook a while longer.
The photo shows the thinner rack, and you can see the red ring around the meat caused by the smoke penetration.
Lauren served some cole slaw, and baked beans with the meal. Oh yes, and lots of napkins.
Please sign the Guest Book so we know you dropped by!
---
Copyright © 1999 by Zenreich Systems. All rights reserved.
Revised: December 13, 2017