Grilled Italian Sausage
One evening Lauren told me that she had a chicken brining in the kitchen. I fired up the Kamado, but when I returned to the kitchen to prepare it for roasting, I found that the bird wasn't totally defrosted.
We were in a bit of a rush that evening, so we made a quick trip to the butcher (a few blocks from here), and looked in his meat case. Click on the small photos for larger views.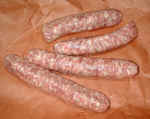 These Italian sweet sausages caught our eyes, and decided to give them a try.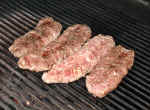 I split them, and just to be playful, sprinkled some CharCrust rub onto most of the sausages (I left one uncoated for comparison).
The Kamado's temperature was about 450-500 degrees. Although I preheated the cooker with gas, I switched to coals for the final cooking. I wound up moving the sausages to the perimeter of the grill because the dripping fat was flaring up when it hit the gas burner's deflector/basket.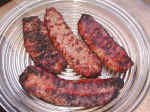 In the photo above, you can see the difference the CharCrust made, at least to the way the sausages looked. The sausages really didn't need the rub for flavor, these were delicious on their own, but I was just playing around.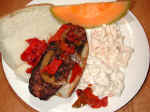 The final sandwich was made by adding some bottled roasted peppers to a good Italian bread (some folk added some mustard too). A little potato and macaroni salad, along with a wonderful cantaloupe, made for a lovely quick summer meal.
Please sign the Guest Book so we know you dropped by!
---
Copyright © 2000 by Zenreich Systems. All rights reserved.
Revised: December 13, 2017