Crown Roast of Pork
We typically have a New Years day party at our house and for 2001 we decided to cook something special. We also thought it would be nice to prepare something we've never cooked before (always up for an adventure.)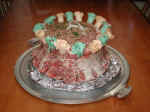 Our conversation with the local butcher led to having him prepare a 16 rib crown roast of pork for us. The photo above shows it as he presented it to us, stuffed with the trimmings from the "frenching" process (taking the meat off the ends of the bones). The roast itself weighed about 8.5 lbs, and the stuffing another 2 lbs.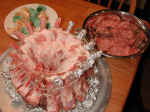 I had our son Joshua remove the stuffing and the paper "panties", so that I could cook the roast at a high temperature for a while (returning the stuffing later). He also wrapped the bone tips with foil to protect them from burning. I seasoned the roast well with salt and pepper, and a little garlic powder.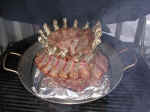 I fired up the Kamado, and brought the temperature to about 450 degrees. I used gas to preheat the cooker, then switched over to charcoal. I also tossed some wood chips that come from old wine barrels onto the fire (this gives a wonderful aroma and a subtle taste).
A paella pan was perfect as a cooking vessel. I put a small roasting rack on the botton of the pan, and covered it with foil.
After only a few minutes, it was interesting to see just how golden the aluminum foil got from the smoke.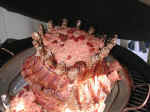 While the roast was cooking, I seasoned the stuffing with salt, pepper, garlic powder, and oregano... then mixed in a handful or so of dried cherries (a gift from dear friends, thanks T&C!).
After the roast cooked for about 45 minutes, I refilled the cavity with the stuffing, and lowered the temperature to 300-325 for the rest of the cooking .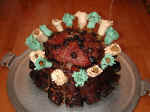 When the internal temperature reached 150 degrees (we don't like overcooked pork!), I removed the roast. However, the bottom of the stuffing was not cooked completely, so I removed that part of the stuffing, and returned it to the oven for a while to finish cooking.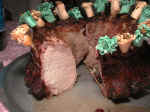 After letting the roast rest for 15 minutes, I started carving. I cut between each rib, and then sliced the meat on each rib on the diagonal. This yielded a bone with a nice wedge of meat attached to it, and a "filet" from each rib. The meat had a nice light pink color... due in good part from the smoke penetration from inside and out (and in case you're wondering.... no it wasn't undercooked. < s >)
The ribs and filets were very tender, juicy and flavorful. The smoke penetrated nicely, but was not overpowering. The stuffing was more like a lean sausage, and people enjoyed it too.
This was one part of a wonderful feast. I also made 10 lbs of bulgogi. and Lauren made mashed potatoes, sweet potato pie, bread stuffing, rice, spinach salad with clementines and candied walnuts, and oatmeal cherry cookies. About 20 guests wandered in and out from 2 p.m. to 9 p.m....... no one left hungry!
---
Copyright © 1999-2001 by Zenreich Systems. All rights reserved.
Revised: December 13, 2017