Pulled Pork Butts
Pulled pork has quickly become a favorite around this household. It takes a while to cook, but boy, is it worth it.
This page is the result of one of my earlier attempts at cooking pork butts. You can see a more ambitious cooking of 5 butts by clicking on the BBQ for a Crowd link.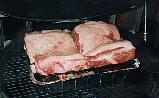 Two 8 lb. "Boston butts" at 10 p.m. The cut of meat is from the end of the shoulder of the pig (the "butt" of front leg). Set the fire to about 210-240 degrees, let the temperature stabilize and go to sleep.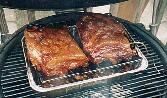 In the morning, check to make sure the temperature is still stable. After about 20 hours total cooking time, the meat looks like the photo above.

Because I now have a sliding drip pan, I can cook the meat on the grill, without the need for a V-rack.
When the meat is done (approximately 200 degrees internal temperature, as measured by a Polder style digital thermometer), I wrap it in foil and put it in a cooler (with no ice, of course) to let the meat rest.
It's then shredded by pulling the meat apart with a couple of forks.
We serve it with some North Carolina style vinegar based finishing sauce, or a South Carolina style mustard based sauce. Serve it on buns with a side of cole slaw and some baked beans, and you'll have some very happy mouths around the house.
---
Copyright © 1999 by Zenreich Systems. All rights reserved.
Revised: December 13, 2017