MINI Cooper S
On Jan 24, 2004 we visited a dealer and brought home a 2004 MINI Cooper S.
Many folk wait months for a car they've ordered, but we were fortunate to find one on the dealer's lot that fit our needs/wants.
I actually wanted a dark silver car with a black roof, but Lauren preferred the chili red with white. Considering that conspicuity is a good thing in a small car, I agreed with her choice.
For the MINI fans out there... the little supercharged car has the Premium, Sports, and Cold Weather packages... with black leather seats. I also had the dealer install an auxiliary audio input so I can connect my iPod into the stereo.
I'll add more comments as we use the car, and do any little customizations that seem useful. The MINI web site is here.
In the meantime, the MCS is a kick... like driving a go kart!
Click on small photos for larger views.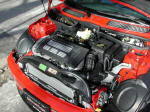 If you have comments, please visit the Guestbook.
---
Copyright © 2004 by Zenreich Systems. All rights reserved.
Revised: December 13, 2017