The Great Harp Adventure
With Joshua playing guitar, and Alan learning to play mandolin, Lauren was looking around for an instrument that called to her.
Lauren has decided to learn to play the folk harp. We attended the Harp Somerset Festival in Alexandria VA and this 34 string Dreamweaver from Heartland Harps followed us home.
As Lauren's first harp, we liked the ergonomics of the curved soundboard (you don't lean it on your shoulder), the mahogany finish, and of course the beautiful tones the harp creates. Dave and Pamela of Heartland Harps were a pleasure to deal with, and while at the exhibit booth, Dave installed a full set of Truitt levers at our request. He had it ready in time for Lauren's first hands on lesson at the festival.
Lauren says the harp named herself Celeste.
Here are preliminary photos of the 52" high newborn. More will come later.
Click on the small photos for larger images
We'll update this page from time to time as Lauren's Great Harp Adventure unfolds.
Now let's see if Scott starts strumming any of the stringed instruments in the house, or if his voice is all he needs.
July 2011 - Sid
Celeste has been with us for three years, and has been a wonderful companion in our living room.
At this year's Harp Festival, we decided that it was time for a change. Lauren wanted a harp that was easier to transport, particularly to her lessons or to harp circle meetings.
The timing was right. Heartland Harps recently introduced their Infinity carbon fiber harp. This wonderful 36 string instrument weighs a mere 8 lbs.
Lauren's named him "Obsidian"... or "Sid" for short.
We'll post more about this new harp soon, but here's a first look photo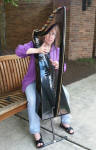 ---
Revised: December 13, 2017