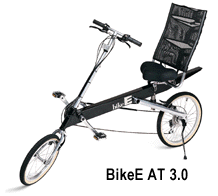 Recumbent bicycles?
We get a lot of strange looks riding around local bicycle trails on our BikeE bicycles.
There are a lot of turned heads, and shouts of "Cool bike!!!"
Then again, we get to stop and chat with other riders and pedestrians about the strange bicycles we're on.
After not having ridden bicycles for many years, a renewed interest developed.
However, I've never been fond of conventional bicycles, and recumbent bikes seem to be just weird enough for me.
The BikeE is designed in a way that appeals to me. Since acquiring our first BikeE in the spring of '97, we've expanded the collection to three of them (one AT and two CT models). So all of us riding BikeE's except for our youngest son... he rides a Dahon folding bike (so he's considered weird too).
All of my dealings directly with the BikeE company have been outstanding.
Johannes from NorthEast Recumbents in New Jersey has been a great help.
We are casual riders and enjoy this family activity.
Of course, trying to carry 4 bicycles on a car rack can be a challenge. The car rack link at the left shows the design and fabrication of some brackets that make mounting BikeE recumbent bicycles a "snap".
The Search page lets you quickly find information by keywords.
---
Copyright © 1999 by Zenreich Systems. All rights reserved.
Revised: December 13, 2017
Photo of BikeE AT3.0 is copyright by the BikeE company.
It is reprinted here with their permission.