The Great Ukulele Adventure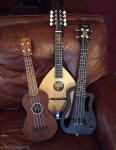 Click photo for larger image
As some of you know, I've been learning to play mandolin for a while.
I have been mostly working on learning melody, and reading music, and that's coming along slowly.
However, I haven't spent much time on strumming or chords. In an attempt to remedy this, I decided to look at an instrument that's kinder and gentler on a novice player than the 8 string, high tension mandolin is.
This led me to the ukulele, and the inevitable UAS (ukulele acquisition syndrome).
So far, I have two playable ukes... a Martin SO soprano (solid mahogany), and an EleUke concert (rosewood) electric.
I think my family will appreciate the EleUke that lets me do not-quite-silent-but-pretty-quiet practicing using earphones.
Here's a photo of the Martin SO soprano, the EleUke concert, and my Big Muddy mandolin.
The next photo shows the size difference of some of the instruments
Left to right:
EleUke, Martin uke, AlanZ OM-1 octave mandolin, Big Muddy mandolin, Martin Backpacker mandolin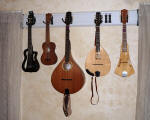 I'll add more detail to this page as I go along.
---
Revised: December 13, 2017