I've been interesting in knives and knifemaking for some time now.
This part of the web site will be the home of text and images related to my adventures in knifemaking.
Part of the fun of the hobby has been setting up my little shop, I'll post photos as I go along.
For now, I decided to make a photograph of Daniel Valois' belt knives. He's been kind enough to let me visit his shop in Pennsylvania, and pick his brains a bit.
Click on the small photo for a larger view.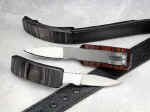 I've been wearing one of his knives on pretty much a daily basis for a few years. My version has a black handle and a titanium blade, and I had him cut a few serrations into the back of the blade. This belt knife is a unique design and incredibly functional. The new profile shown above has a finger notch, thumb ridges and a 2.5" blade.
One nice thing about the design is that the knife is not actually part of the belt fastening mechanism. In effect the knife is held horizontally in a kydex sheath, which has a hook that meets with the eyelets in the belt. When you draw the knife, your pants don't fall down!
---
Copyright © 2001 by Zenreich Systems. All rights reserved.
Revised: December 13, 2017