First aid kit
This is the first aid kit that I carry with me on the motorcycle.
It is a commercially available kit that I augmented with some additional (very useful) items.
Click on the small photo for a larger view of the kit's contents.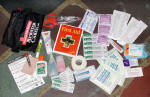 Medical Information
Backcountry First Aid Book

CPR first aid instructions
Personal Protection Items
Wound Treatment
anesthetic wound cleaner (2)

antimicrobial towelette

antiseptic towelette (3)

double antibiotic ointment

povidone-iodine ointment

Sepp® tincture of benzoin
Blister and Burn Treatment
Bandage Materials
1" x 10 yds adhesive tape

3" x 3" sterile gauze pad (3)

1" x 3" fabric bandage (3)

knuckle bandage (2)

3" x 4" Telfa® non-adherent
I added
eye drops

bottle of ibuprofin

insect repellant

sunscreen

insect sting treatment

additional benzoin tincture

Immodium AD (just think about the consequences of NOT having this < s >)
If you have comments, please visit the Guestbook.
---
Copyright © 2005 by Zenreich Systems. All rights reserved.
Revised: December 13, 2017