Motorcycle GPS
When I go out for a ride, I'm often on unfamiliar roads... especially if I'm following a group of riders.
I don't like not knowing where I am, or which direction I'm going. So a portable GPS (Global Positioning System) seemed like a good fit for me.
My first GPS was a Garmin eMap with 32mb memory, purchased in 2001, and the technology and storage have come a long way since.
I currently use a Garmin 2610 on a RAM mount wired into the motorcycles battery.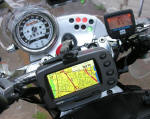 It has 2gb memory, with all North American maps loaded, covering the US and Canada.
This is a routing GPS with voice prompts. It's hooked into the AutoCom intercom. I sometimes use a Gilson external antenna in area with a lot of tall buildings.
It's nice to be able to move the GPS from motorcycle to car (I even take it with me on business trips for use in rental cars).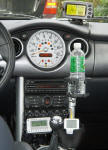 Having a "Route home" option only a button press away is reassuring.
It basically comes down to this... I like being able to say "I may be lost, but I know where I am" <vbg>
It's also great to be able to quickly know where the next available fuel is, and whether it's 20 miles ahead of you or 3 miles behind you. Similarly, its just a few taps to find the restaurants, shopping, etc in the area... complete with addresses and phone numbers (to make dinner reservations)
Out with the old...
The 2610 replaced the now discontinued Garmin eMap... here I've retained the notes and photos I made a couple of years ago:
The GPS lets me know where I am, which way I'm headed and my current speed and time. It's not billed as a GPS as much as it's an electronic map. It's got a road centric view of the world. I can download detailed maps (there is a built in "base map" for the USA) into it from the CDRom software that came with the device. This lets the eMap carry very detailed information about roads, points of interest, lodging, food, etc. Memory cards are interchangeable, so I can keep different data on each card, and change the data on any card depending on where a trip might take me.
One nice feature is a "next street" display, that shows the name of the cross street at the upcoming intersection.
It's mounted with a RAM mount that fastens to a ball on the handlebar. The RAM is shock mounted and lets me position the eMap for easy readability. It takes only a few seconds (no tools) to move the mount to my automobile, where a suction cup ball mount sticks to my car windshield.
I use rechargeable Nickel Metal Hydride (NiMh) AA batteries to power the unit.
If you have comments, please visit the Guestbook.
---
Copyright © 2002 by Zenreich Systems. All rights reserved.
Revised: December 13, 2017