Shedding some light on the subject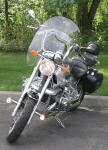 When I got the motorcycle, one of the first things I wanted to do with it was make it more conspicuous by adding some additional lighting.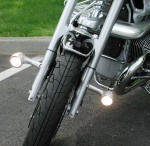 I chose a set of brushed aluminum MotoLights that are mounted to the forks, about 14" off the ground. It took the dealer (BMWNY) 2 hours to install the lights. they did a nice job of routing the wires along paths uses by other electrical and hydraulic items. You can click on the small photos for larger images.
The fixtures are machined out of aluminum billets and have a lifetime warranty (even on the halogen bulbs). There is a rocker switch that mounts near the left handgrip, and looks like it came with the bike.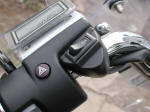 I'm surprised at how many people comment about these lights. They like the way they look, and the way the brushed aluminum finish complements the fork tubes. They also remark about how bright they are (compared to the headlight).
When using the lights at night, I find that they light up the road nicely, and being low, they don't blind other drivers.
I also like the idea that I'll never be mistaken for a car with a headlight out.
The MotoLights, combined with the headlight make folk wonder what's coming at them (some strange UFO sighting perhaps).
That's exactly what I want in a set of running lights.
If you have comments, please visit the Guestbook.
---
Copyright © 2001 by Zenreich Systems. All rights reserved.
Revised: December 13, 2017