Miscellaneous
This page has assorted photos of parts of the BMW R1200C motorcycle.
Click on the small photos for larger images.
The photos above show the grab rail and backrest that came with the Montana edition of the bike.
The BMW accessory plug uses a small connector to access electrical power. My batter tender charger plugs into this socket, and I have an adapter to connect regular automobile 12 volt plugs (for using with a cell phone, etc.) I ran a second, dedicated fused two prong power connector to the front of the saddle for power to my heated clothing during the winter.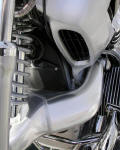 Photo above shows the Telelever suspension. The aluminum yoke attaches to the frame and to the front forks. Unlike other suspensions, the spring and shock absorber combination on the yoke make for stopping with virtually no nose dive.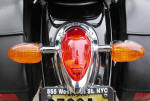 The tail light and directional signals in the photo above were photographed after having the chromed tail light bezel replaced for the second time due to a crack near the upper left bolt. I understand that this is a very common cosmetic problem, and when I think about it, I like the idea that a thin crack in a piece of plastic is the grand extent of the problems I've had with the bike. Not bad at all!
If you have comments, please visit the Guestbook.
---
Copyright © 2002 by Zenreich Systems. All rights reserved.
Revised: December 13, 2017