Muffler Heat Shields
After I put about 150 miles on my bike, I noticed that the chrome exhaust header pipes were taking on a golden color where they met the engine. This is not supposed to happen, because the pipes are double walled. However I knew that BMW would replace the header pipes, and I arranged to do so at my 6,000 mile service.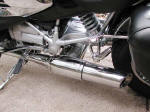 As long as the mufflers were going to be detached for that procedure, I thought it would be a good time to have my dealer (BMWNY) install a set of heat shields for the mufflers. Click on the small photos for larger images.
I'd already had some Cordura melt when it touched a hot muffler, and these shields should avoid that (at least for the forward portion of the muffler, where my legs might brush up against).
The installation is neat and seems to work well, the shields get very warm, but not nearly as hot as the mufflers themselves.
If you have comments, please visit the Guestbook.
---
Copyright © 2002 by Zenreich Systems. All rights reserved.
Revised: December 13, 2017